What's Happening
Subscribe to posts
Due to storm cleanup SAU 67 is on a two hour delay for 
Wednesday January 18, 2017
2017-2018
Kindergarten Pre-Registration is underway!
If you have a child who will be attending Kindergarten, please complete the attached form or you can contact the office directly at 603-225-3049.
Your child must be 5 years of age one or before 09/30/2017.
As a requirement for student registration, there is information that must be included when submitting your child's registration packet. Packets will be mailed during the week of February 27th. Please take advantage of this advanced notice to gather the required information so you are better prepared when you receive your child's registration packet. Below is a list of the required items.
Copy of your child's birth certificate

Copy of your child's most recent physical and immunization record.
(This applies even if your child is scheduled for an appointment after your packet is turned in. You can mail in a copy of the new record after their appointment.)
2 proofs of residency. This could be a copy of a Purchase and Sales Agreement, Lease Agreement, Vehicle Registration or Utility Bill.
This applies even if you have another child already enrolled in the district.
ONE STOP EDUCATOR 
Educator's One Stop Resource f
or Monthly Fire & Life Safety Quick Teaching Topics 
JANUARY 2017  
This January Edition of ONE STOP EDUCATOR will support and 
provide educators with teaching information and links to support 
topics discussed in this month's SAFETY EDUCATOR NEWSLETTER. It 
will also support students wishing to participate in the Annual Fire & 
Life Safety Calendar Contest.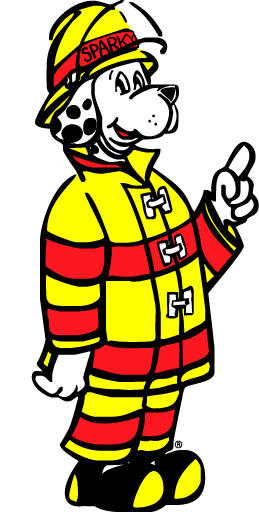 With a New Year comes the opportunity to start things off on the right foot. Often one of the 
resolutions we make is to improve the health of ourselves and our family. As you work towards this reso
lution PLEASE add this one additional step to maintain your health: HOME FIRE PREVENTION. Take a 
moment to work through this checklist, and read this newsletter, to ensure that you, and your family, will be saf
er this year. Fire is Everyone's Fight and together we CAN make a difference!
Parent Pick Up - New Location and Routine
Starting January 10, 2017
We have a new location for parent pick up, the parking lot!  
Here is the routine:
Please arrive after 2:10, we will start loading around 2:17.

Pull into the front parking lot following the "One Way" sign and get in line.

Stay in your car.

The line will pull around the corner and stop before fully entering the other half of the parking lot, about even with the end of the building.

While waiting, please put your car in park and/or turn it off so it does not roll while we are loading.

Before January 10th, please write your child(ren)'s name(s) on the back of this card.

Display this card on your dash with the name(s) facing out.

BES staff will direct your child(ren) to your car.

When you are loaded and there are no cars in front of you, pull away slowly.

If you are pulling up in line without your child(ren), stop before fully entering the other half of the parking lot, about even with the end of the building.

If you arrive after the car line is over, park and come in to the office to pick up your child.
Bow Parks & Recreation is excited to offer a Learn to Ski & Ride Program at Pats Peak Ski Area, Henniker NH.
This five (5) week program is being offered to those who are 6 by 1/1/17, Grades 1-12
PROGRAM DAY/DATES : WEDNESDAYS; January 4, 11, 28, 25, February 1 (Make-Up if needed will be February 8)
LESSON TIME: 4:30-5:30 pm BES Students (grade 1*-4)| 5:30:6:30 pm BMS/BHS Students (grade 5-12)
* must be 6 by 1/1/17 and in first grade
PROGRAMS & PRICING
*If you are considering purchasing equipment before the start of the program do NOT register for rentals. Rentals can always be added 
to the registration but NOT removed.
**Helmet NOT included with Rental. See Helmet information under Peak Perks on page 2.
REGISTRATION On line registration is quick, easy and helps to prevent delays due to errors or missing information!
Simply logon to www.patspeak.com and click the Register Here for Learn to Ski & Ride Program found on the home page.
Enter username "BOWREC" for BMS/BHS Students or "BOWRECELEM" for BES Students
Enter password "BOWGIE" *Username & Password are case sensitive
REGISTRATION DEADLINE For any registrations received ON or AFTER November 16, a late fee of $25.00 will be applied.
TRANSPORTATION
BES/BHS Students
Parents are responsible for transporting their children to/from Pats Peak.
Parents are responsible for their children during the lesson time at Pats Peak.
BMS Students |BOW REC SKI BUS PROGRAM
Bow Parks & Recreation offers a Ski Bus to/from Pats Peak
The Ski Bus will depart from Bow Memorial School parking lot at 3:25pm and return to the school by 7:15pm
TO REGISTER simply complete a Bow Rec Registration Form and submit to the Bow Rec Office with cash or check.
Registration opens on October 4 *Space is limited, register early! When the program is full, participants will be wait listed.
Bow Recreation Registration Form can be found at 
COST: Bow Residents $60.00 | Non-Bow Residents $65.00
Deadline to register is November 14 *If we do NOT meet our min. for busing by November 14. The Ski Bus Program will be canceled and
Refunds will be given. Parents will then be responsible to transport their child to/from Pats Peak.
PROGRAMS COST PROGRAMS COST
Lift/Lesson $160.00 Lift/Rental** (intermediate/strong skier or rider; Level 5+) $160.00
Lift/Lesson/Rental** $205.00 Existing Season Pass Holder (only) /Lesson $110.00
Lift Only (intermediate/strong skier or rider; Level 5+) $105.00 Practice Makes Perfect Season Pass/Lesson $419.00
PEAK PERKS
Parent Frequent User Card (good for 5 Adult/All Mtn, 8 hr weekday ticket) $160.00
Parent Ticket available day of program $34.00
Café' Card valued at $40.00 $33.00
Smith Helmet Purchase $50.00
Scott Goggle Purchase $25.00
Mittens Purchase (black only) $20.00
RENTALS
Pats Peak offers affordable rental packages for the program or the entire season. Helmet Rental (5 week series + Pats Peak Bonus Day) $30.00; Seasonal Equipment Rental $229.00
Not sure if your child will need rentals? Pat's Peak will allow you to sign up for rentals at a later date for no extra fee :-)
BONUS DAY INFORMATION
The NH Ski & Ride Bonus Day continues to be a tradition of the Pats Peak Learn to Ski & Ride Program. Valid February 27, 2017 to end of Season 2017. To redeem your Pats Peak Bonus Day, bring your program tag to the Snowsports School Desk to be validated and receive your FULL DAY/ALL LIFT ticket. To redeem Cranmore or Gunstock bonus day, students MUST bring their Pats Peak program tag AND applicable mountain voucher to any Cranmore or Gunstock Ticket window to be validated and to receive their ALL DAY/ALL LIFT Jr ticket.
OPEN PROGRAM
Students who wish to participate in the Pats Peak Learn to Ski & Ride Program, but are unable to join our prescheduled
program for any reason, have the option to register for the Pats Peak Learn to Ski & Ride Open Program.
• This is for individual sign-ups (juniors ages 6-17 (must be 6 by 1/1/17 and in first grade).
• Five (5) week series.
• Students register online.
• Session 1 students select one day: Monday, Tuesday, Wednesday, Thursday, or Friday.
• Students choose 2:30 pm or 5:30 pm lesson time.
• Space is limited. – No bus transportation
Open Program registration login information can be obtained by emailing snowsportschool@patspeak.com or by calling (603) 428-3245. Information can also be found at www.patspeak.com/ski_ride.htm.
REFUNDS
Sorry, Pats Peak has a NO REFUND, no exchange policy on programs, rentals or perks. Pats Peak will not refund the cost of the program to students who decide to participate in other activities (such as basketball or cheerleading) after enrolling in the
program. If the parent/student is unsure if they are going to make a winter club/sports team or not, we will accept applications for the program after the deadline date for an additional fee of $25.00. If there is a question as to whether a student needs rentals or not, we suggest rentals be added at later date for the original cost of the rental.
The only exception to this policy may be if a student has a qualifying medical issue that keeps the student from participating
in the program for the rest of the season (short term illness such as a cold does not qualify). A pro-rated refund may, at Pats Peak discretion, be issued in the form of a gift card that can be used only for services or goods at Pats Peak. A signed doctors note (indicating date of incident) and program tag must accompany the medical refund request within 10 days of incident. There is a $10.00 processing fee on all medical refunds. These exceptions can take 2-4 weeks for processing.
CHAPERONES
A chaperone is an essential part of the Pats Peak Learn to Ski & Ride Program. A chaperone does not need to be a skier or
rider to participate; however, they must be at least 21 years old. Chaperones will be responsible to sign-in each night with
the Bow Parks & Recreation Program Coordinator. Chaperones with a valid chaperone tag can receive rental equipment at
no charge. Chaperones that assist on the hill will be issued a chaperone tag. The tag is their valid lift ticket. Chaperone tags
are only valid the days our program runs. If interested in chaperoning please call the Bow Recreation Office at 603-228-2222.
Anne-Marie Guertin, Bow Recreation's Program Coordinator, will be present at Pats Peak from 4 to 6:30 p.m. Chaperones
will also be at Pats Peak. Look for the Bow Recreation table in the main lodge if you need assistance.
QUESTIONS
Questions regarding Bow Recreation, please call 603-228-2222, email Program Coordinator, Anne-Marie Guertin @ parksrec@bow-nh.gov, or visit our website at www.bow-nh. com
Questions about the ski area Pats Peak call 603-428-3245 and ask for the Snowsports Office; e-mail info@patspeak.com, or visit their website at www.patspeak. com